Products
Q: How to comb your wigs?
A: For straight, body wave or other big wave pattern wavy hair wigs, a width tooth comb/brush is the best choice. Make sure you brush the hair very gently. First from the top, then middle and then brush the tip. For Curly hair, there has a lot of wave pattern to stop the brush, if you force to brush it, the wave pattern will be broken that will make the hair frizzy and flufy. So to maintain a curly hair, spray pure water first, then use your finger to run through it would be ok.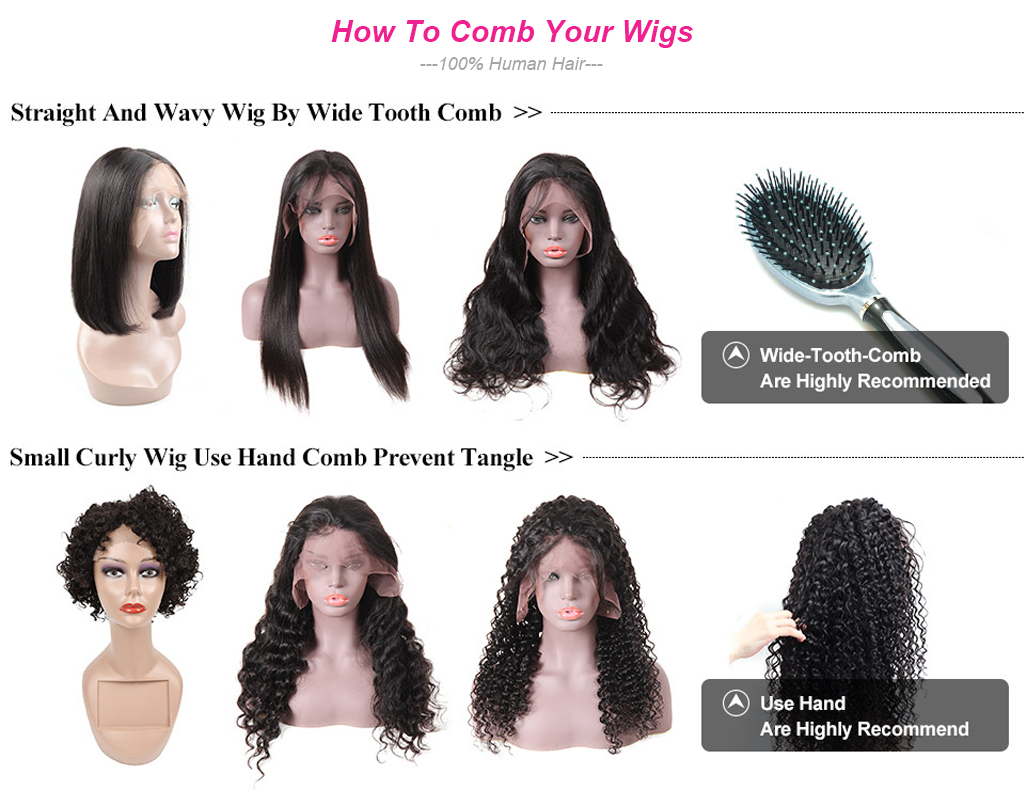 Q2: How to measure your wigs?
A: No matter hair bundles or wigs, they are all created from the straight hair. The original status are all straight hair,so we need to stretch the hair to straight before measure the real lengths.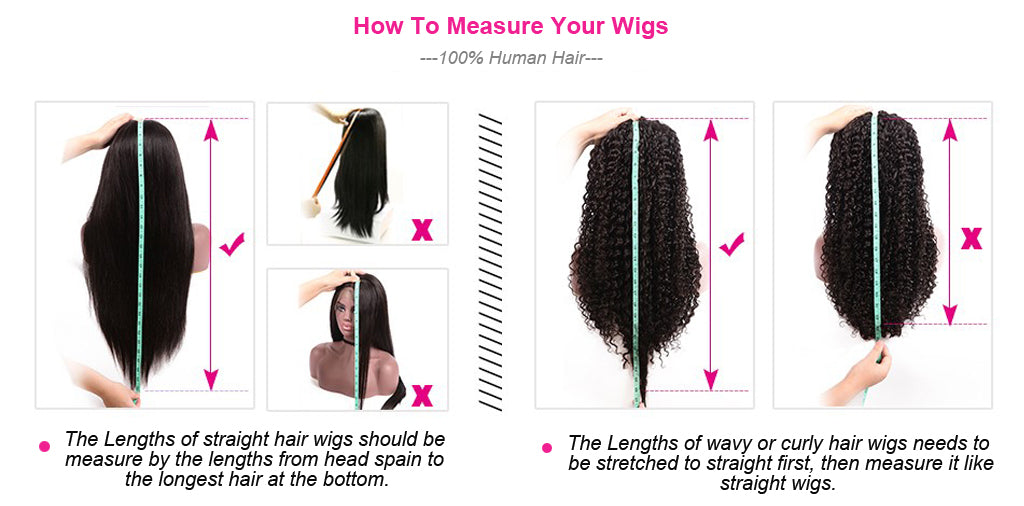 Q3: Can I wash the wigs?
A: Yes, you can wash the wig but please follow the instruction to wash your wig as below.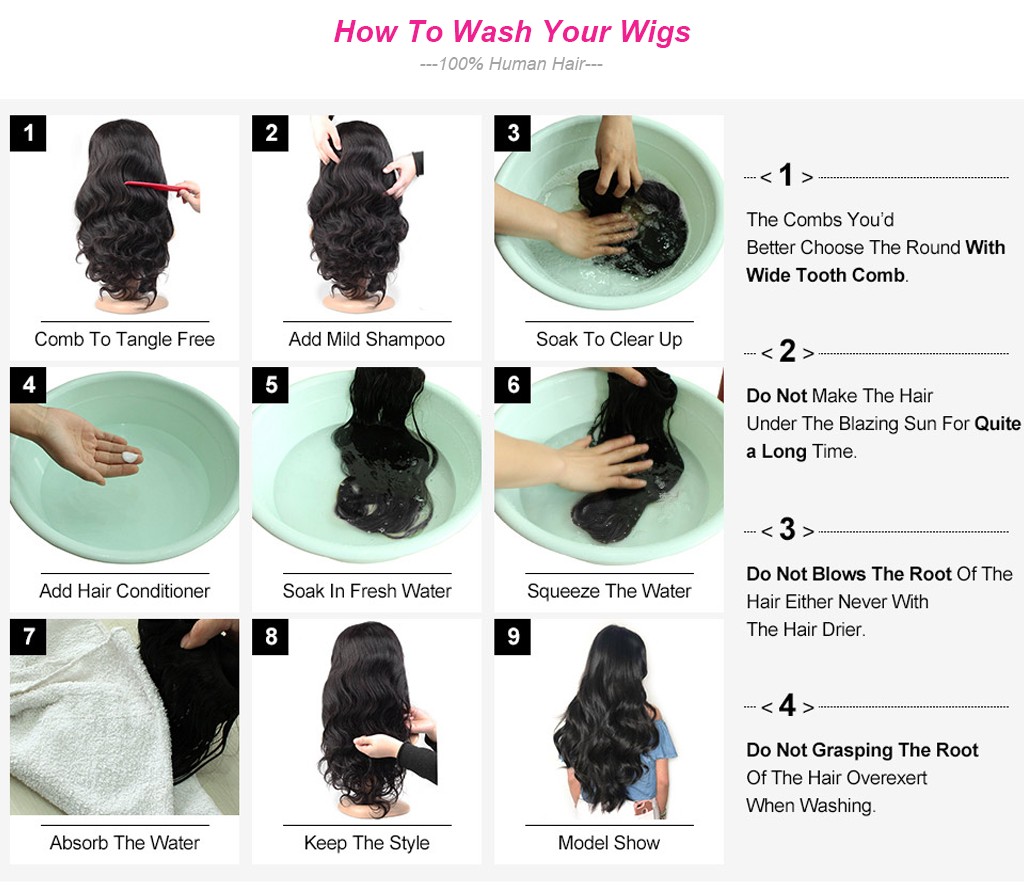 Q4: Can I get a customized wig if the wig cap size not fit my head size?
A: Yes. The wig cap size of our lace wig (Factory already done wig) is medium size as below in the image. You can contact us for a customized wig if the medium size wig cap is not fit your head. We can make hair bundles with lace closure or frontal into wigs with S,M,L size wig cap. To make a customized wig only take hours,most of the time we can arrange ship out at the same day.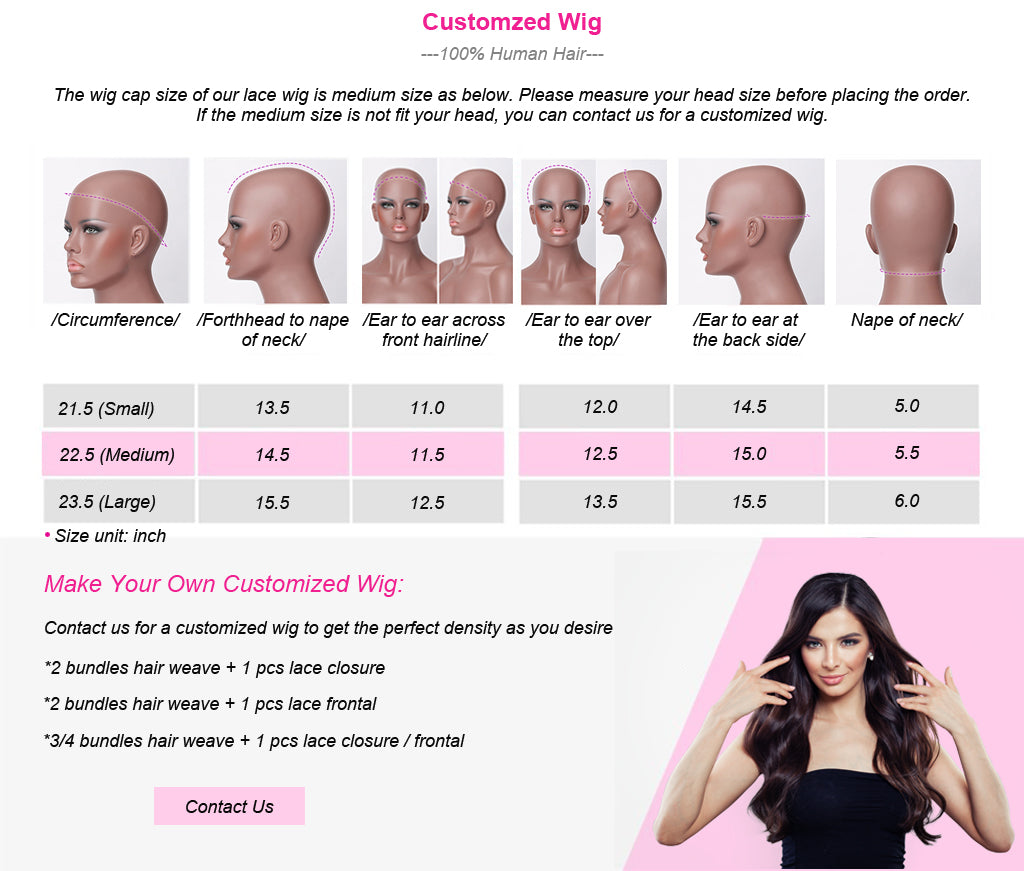 Q5: What are the difference between lace front wigs and full lace wigs?
A: Lace front wigs are half made by hand-tied and half made by machine, Full lace wigs are 100% made by hand-tied. Lace front wigs are more competitive in price, full lace wigs are more realistic and easier to make a lift ponytail on top. The size of the lace part decides how big of the area you can show with your own hair skin.
Q6: Can I make restyle or dye the hair?
A: Yes. But we'd like to remind you that too often restyle or dye the hair will dry it out. So, please make sure which kind of style or color do you like before you actually take action on it.
Q7: If I am buying hair bundles, how many pieces should I purchase?
A: From 8 inches to 18 inches, 2-3 bundles with a closure is ok. Over than 22 inches, 4 bundles with closure or frontal would be recommened. You can refer from the following image.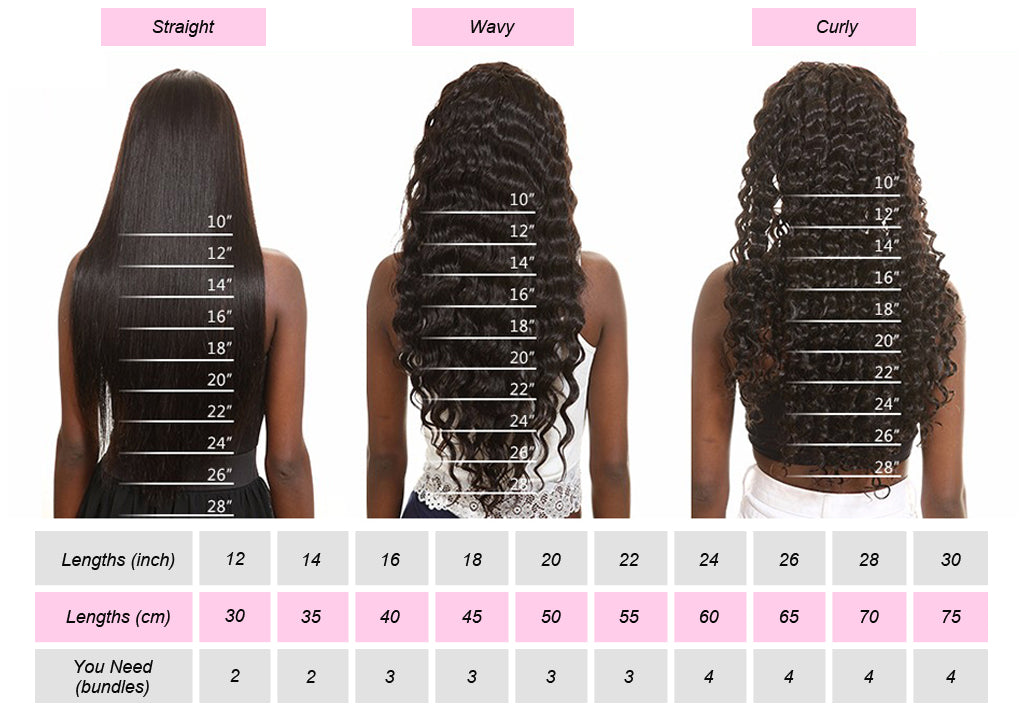 Ordering and Shipping
Q: How do I pay for my order?
A: To pay for your orders at www.aosunhair.com, please follow the steps as below:
1) Please select the item you like and click "BUY NOW" and follow the steps to go to the checkout page
2) Choose payment menthod and click "Pay" for the order.
* For offline payment, please contact our customer service and we help you with the payment.
Q: What kinds of payment terms you guys accept?
A: Online order we accept paypal, Credit cards that can connect to pay with PayPal: VISA, MasterCard, American Express. 
Western Union, Money Gram, Bank Transfer is also acceptable. please contact our customer service for further information if you prefer these three methods.
Q: When will you ship out the hair and How long does it take for the delivery?
A: Generally, we will ship out the hair within 12-24 hours (Working Days) after the order and the payment is confirmed. For item which is out of stock, we will contact you and let you know. Your orders will be processed by Fedex/DHL. Here are the delivery time listed:
*North America 3-5 working days;
*South America t 4-7 days;
*Europe 3-5 working days;
*Australia 3-5 working days;
*Middle East 3-5 days;
*Africa 5-7 days.
Kindly note below:
P.O Box is NOT acceptable.(Please don't leave PO box address because it's not accepted by shipping company.)
Make sure the shipping address is the same as the address you set in paypal account, otherwise it will take time to verify and sometimes cause shipment pending.
Q: Is there any custom duties?
A: Custom duties depends on your country custom policy, we usually put low value on the invoice to avoid the potential tax. You can also tell us the value you want to declare when you place order.
Q: Do you offer overnight shipment or do you guarantee the delivery time?
A: Once the package is picked by the FedEx or DHL or other shipping company, the package actually out of our control already. So, we can not promise the delivery time. What we can guarantee is that we will ship out the hair on time, and make sure we can track the package with them. Regarding the overnight shipment, it's not available because it's far distance between China and other countries. 
Hair Care and Usage
Q: How many bundles do I need?
A: Normally 3-4 bundles are enough for a full head, if the length reaches 20 inch, I suggest you can order 4 bundles. Or you can also combine a closure or frontal to make a full head.
Q: Does the hair have a bad smell?
A: Aosun Hair promise no corn-chip chemical smell. Our hair is 100% chemical-free. We not only care about beauty but also our customer's health! But we do cowash the hair in production process, so it may have a little shampoo smell.
Q: Can the hair be colored or bleached?
A: Yes. Aosun Hair only offer 100% pure human hair. The hair can be colored and bleached. As a general rule it is easier to darken the hair than to lighter the hair. We highly recommend having your hairdresser dye the extensions as you will get the results you want, coloring them yourself always poses a high risk of not coming out the shade you want. If you can not get to a salon, always use a good quality hair dye and test a small sample first.
Q: Will the hair be shedding or tangle?
A: Shedding: A few strands initial shedding of new hair is normal. We always suggest customer seal weft before installing and brushing it with wide-tooth comb. Excessive shedding will cause by weft cutting or dryness. Please always seal the ends if you cut weft for installation and keep it moisturized.
B: Tangle: Usually, our hair will not tangle because it is cuticle intact human hair. However, dryness, oil & dirt build-up, salt water or not combing out daily will lead to tangle and shedding. Please follow hair care instruction and use good shampoo & conditioner to wash hair twice a week.
Q: What type of hair care products should I use?
A: Treat this hair just as if it was your own hair. Use good quality shampoo and conditioning products. Conditioning your hair is very important to keep it soft and manageable, so use leave in conditioners. You can also use products like gel and hair spray to keep the curls in place, but make sure to wash your hair and not leave in these products in for a long time. Recommended shampoos and conditioners: Pantene PROV For treatment and every day use: Olive Oil Hair Polisher.